Congratulations to Brian J. Mc Cue Celebrating 50 Years as an Official
3/2/16
Brian J Mc Cue, PhD recounts his life as an official over the past 50 years (1966-2016)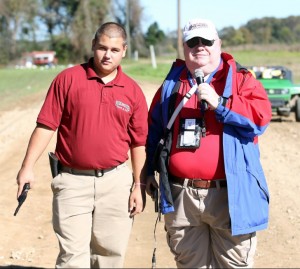 It's funny that I got the officiating bug while still in high school. At that time, I primarily officiated basketball and freshman/JV football. My first adventure into track & field was at the orders of my high school track coach. Coming back from college for a visit, he threw a starting gun at me and told me to start at this freshman meet! There was little to no argument to my assigned task back in 1966.  Even today, he could turn me into a fearful 16 year-old (if he was still alive).  I obtained my high school certification in three sports at that time and AAU certification for track and field/ cross country soon after.
I've had the pleasure of working every event in track & field and just about all positions in cross country (starter 30 + and referee now 10 + years). Due to work, I primarily officiate track & field and cross-country at the collegiate level. I have worked at all three divisions of the NCAA and the subsequent championships. I've also had the honor of being selected to officiate USATF cross-country and track meets at the state, regional, and national levels for both Junior Olympics and Junior Nationals. I was even lucky enough to serve as a member of the starting team for the 1994 US Olympic Festival in St. Louis, MO and USA vs. Germany Decathlon just prior to the 1996 Atlanta Olympic Games.
In addition, I am past president and officials certification chair of USATF South Carolina.  I have been lucky enough to see the evolution of track & field from cinder to modern track services. I have also witnessed the evolution of competition equipment and officiating tools including the laser measuring device.
The lone concern I have as I enter the twilight of my officiating career is the lack of young officials behind us. Last weekend, for the 16th year, I had the honor of being the meet referee for the SOCON Indoor Track & Field Championships and the average age for officials ranged from 50 to 80. We need more youth!!
I wish to thank my colleagues at all levels in meet management, directorships, coordinators, coaches, timers (electronic and manual) and the athletes (both living and departed to that great big track meet in the sky) for an educational and certainly not dull 50 year experience. Wouldn't trade it for the world; for, I hope to be granted another 50 years working this for what I love!!
Sincerely,
Brian J Mc Cue, PhD