Coach O is available to speak at banquets, events, seminars, conferences, schools or colleges, and your business on Event Management. He can also serve as a motivational speaker to inspire an audience.
BOOK A SPEAKING ENGAGEMENT TODAY!"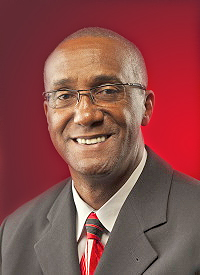 Charles Oliver
coacho@coacho.com
About Coach O
The old adage "necessity is the mother of invention" fits nicely when describing the history and development of Bags By Coach O, a company deeply rooted in track and field with specialized divisions serving all aspects of the sport and other athletic events.
While strolling through his hometown of Columbus, GA, founder Charles Oliver spotted a bag in a store window and immediately thought of modifying it for track athletes. "I remember seeing kids walking around at track meets carrying their shoes and other gear in their hands," Oliver remembered. "Developing a customized bag for track athletes seemed so obvious when I thought about it."
At the time, Oliver was the head track coach at Troy University where he was an all-America, record setting and world class 400 meter competitor in college. He knew both the sport and athletes' needs. In 1989, that idea became Bags By Coach O, a company specializing in athletic bags, team apparel, and track and field equipment.
Bags By Coach O was only a start. Oliver approached business, a life-long compassion, with the same intensity and focus that he employed as a champion athlete. In 2000, he expanded by opening Coach O Registration, a company specializing in online computerized registration for meets, tournaments, clinics and camps. Eight years later, Oliver combined his experience as an athlete, coach, administrator with his business acumen and launched Coach O Event Management. The division provides turnkey service for conducting, managing and marketing athletic events recognized nationally as "best in class."
The company's focus on quality and fulfilling needs paid off. A wide variety of athletes – from grass roots to young stars of tomorrow to Olympians – rely services provided by Coach O. Coach O Registration handles online registration for both national youth organization events, meets in 47 states, several provinces in Canada. Several meets, including the AAU Junior Olympic Games, the largest youth meet in the world, benefit from Coach O Event Management.
Meet Charles Oliver
Few athletes emerge from their careers earning the title of "champion." There's a smaller community of people with championship accolades as an athlete, coach and administrator. Charles Oliver is a member of that select fraternity. He has the rings to prove it.
In a sport where time, distance or height determines excellence more than the reputation of the team, Oliver emerged as a giant. He did it with a somewhat unlikely beginning since he started running track only as a senior at Jordan High School in Columbus, GA. But it was a fast start. He won the state championship after an undefeated season and had the fastest 400 meter time in all four divisions in Georgia. His 48.8 still stands as a school record.
Oliver took his talents and ambition to Troy University (then Troy State University) where he set school records and became one of three freshmen in the university's history that earned all-America honors. As a sophomore, he posted a school record 45.8 that at the time was the fastest 400 meters in the country. When Troy University inducts its inaugural class in its Athletics Hall of Fame class in 2012, Oliver will be one of the first honored.
That rather late and unlikely start to a high school career led Oliver to three Gulf South Conference 400 meter championships, all-America honors seven times, an NAIA 400 meter national championship, Olympic trials finalist in 1976 and 1980 and an alternate on the 1980 Olympic team. From 1974-1980, he was ranked among the top 10 by Track & Field News. Throughout his storied college career, he made the finals in the 400 meters in every meet but one.
After graduating from Troy University in 1977 with a degree in physical education, Oliver coached track at Columbus (GA) High School until 1980 when he returned to Troy as a graduate assistant coach, then promoted to head track coach the next year. Through 1988, Troy won seven Gulf South Conference track championships, Oliver was named "coach of the year" seven times and 26 athletes won all-America honors. Meanwhile, Oliver earned a master's degree in education in 1981.
Oliver's success attracted attention from the University of Tennessee and its storied track program. He became assistant coach for the Volunteers in 1988 with primary responsibilities including the sprints, hurdles, long and triple jump. During his coaching tenure through 1996, Tennessee won SEC indoor and outdoor championships and produced numerous all-America performers. Oliver remained on the Tennessee administrative staff until 2009.
He founded Bags By Coach O in 1989 and expanded the company to include Coach O Registration in 2000. In 2008, Oliver launched Coach O Event Management.
An active member and advocate for the nation's track and field community, Oliver served in leadership positions with several organizations, major athletic events and as a member of numerous boards including the Knoxville Track Club, AAU Executive Committee Board, AAU Junior Olympic Games, USATF Meet Directors Association as well as NCAA and SEC positions.
A firm believer in activities that promote fitness – "being a former PE teacher," Oliver says – his company actively promotes youth programs and events. His company also donates equipment awards to various youth programs, allowing athletes access to equipment for their training and pursuit of personal fitness and achievement.
Coach O Registration
Coach O Registration provides the ability for you to run a virtually paperless meet entry process. With general meet information available on your web site, Coach O Registration is a perfect complement and provides the final link for a paperless meet entry process. Coach O Registration is designed to provide records that can be imported directly into Hy-Tek Meet Manager©.
The goal at Coach O Registration is to make the labor intensive data entry process very easy for both the person responsible for data entry and for the coaches, parents and athletes entering your meet. This is done by shifting the burden of data entry from one person to the many coaches, parents and athletes who come to your meet; and by providing tools though the Coach O Meet Director's Utility Page that let you and your staff manage and monitor the on-line meet entry process.
In addition to eliminating the labor from the data entry process, the issues about incorrect entries is virtually eliminated. This keeps day-of-meet changes to a minimum which helps make your meet more successful and improves the experience of the participants.
Learn more about Coach O Registration!
The Letter "O"
By: Kathy Wolfe
 First "O" Facts
"O" is thought to be the oldest letter in the alphabet at about 3,150 years old. Ancient Syrians called the letter "O" ayin, which translates to the word "eye" "O" is about the fourth most commonly used letter in English printed material. As an abbreviation, it can mean Oxygen, ocean, old, or ohm. "O" is expressed in Morse code by dash-dash-dash.
The 24th and final letter of the Greek alphabet is omega, which corresponds to the English letter "O" and is often to mean "the last" of a series.